Freestanding Display Shelving in white and natural birch styles – by Manny Stone Decorators – offer amazing options which showcase your wholesale merchandise exhibit and will assist you to attain excellent exposure maximize sales. We offer you value based pricing including Javits Center labor and Manny Stone Decorators' supervision. Our shelving towers are versatile with multiple configurations and sizes.
Options include:
2 sizes – the 72″ long size and the 36″ long size
2 colors – white and natural birch
Straight or staggered alignment – which maximize your exposure.
5 shelf white or birch Display Shelving units which give 11" space between shelves.
4 shelf white Display Shelving units give 16" space between shelves.
Pictured below left: Birch straight display shelving units, with a 72″ option at left and two separate 36″ options flanking on the right.
Pictured below right: Birch straight 36″ display shelving units allow for merchandise to be showcased in an organized fashion. (scroll down below the pictures for more info …)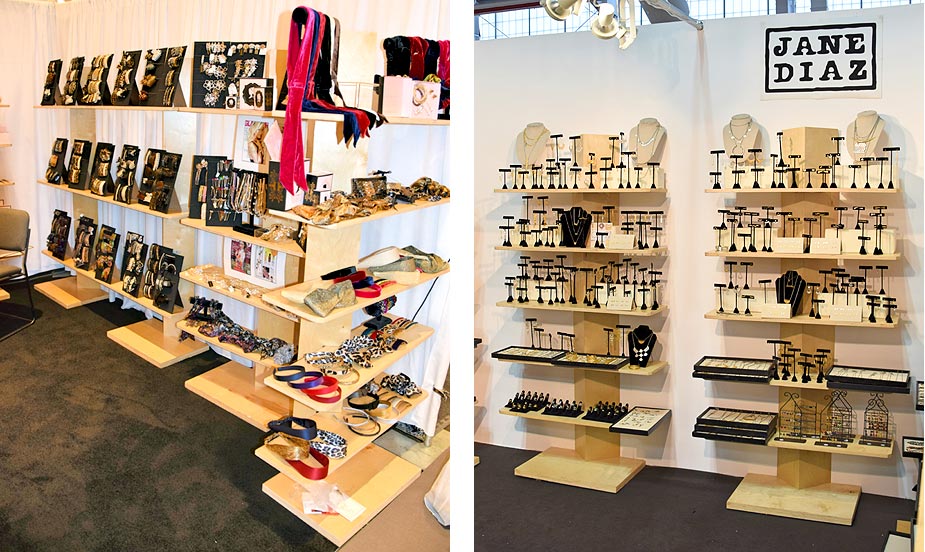 Below we have examples of our straight display shelves vs. our staggered display shelves. The features and benefits include: attractive, contemporary styling that puts the focus on your product. Staggered shelving that offers more versatility in style and function. New shelving can cover up to five feet of wall space or may be positioned in a traditional vertical tower. A great displayer for gift items, folded garments and shoes.

Shelving specs: 72″ tall; five shelves 36″ or 72″ long, 10″ deep; bottom shelf is 11″ from the floor; 11″ gap between each shelf.