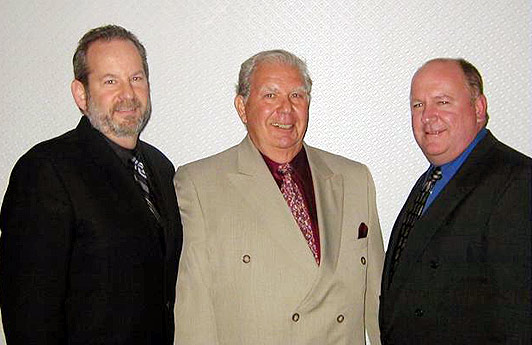 Lloyd Stone, Manny Stone, and Paul Schultz

---
A trade show display by Manny Stone Decorators can be your company's most valuable sales tool. Each creative trade show presentation is personally designed for you.
Manny Stone Decorators is a family owned business offering three generations of trade show and visual merchandising expertise. Service is our number one priority. Verbal, written and visual communications are the keys to 65 years of success. Our clients are served nationwide. A Jacob K. Javits authorized, licensed and fully insured, independent contractor and booth provider, we are also known as an E.A.C.
We create and supervise the design, installation, and dismantling of both custom made and generically formatted trade show booths either leased or sold constructed of a variety of materials in different styles, shapes and sizes.
Manny Stone Decorators respects your company's budget and offers excellent value as we design, fabricate, and lease hard wall booths. They may be covered in vinyl, felt, paint or a variety of laminates. We offer grid wall booths, free standing grids, pegboard, perfboard, and slatwall booths on a rental basis.